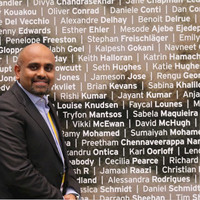 Preetham C Narasim, PMP® , Change Management Practitioner
Associate Director – Program Execution Services at EY
April 11, 2019, Sriram worked with Preetham C in the same group
Sriram's

PMP

training is 'Top Notch' I was lucky to get Introduced to Sriram when my mind was in doldrums on how do I crack

PMP

. His approach about how to comprehend concepts explained in PMBOK and interpret in PMP exam ….I bet he is one among the best in business. He can coach someone who is new to Project Management at the same time he can coach someone who had lived Project Management for 15-20 years, such is his versatility. He believes in being pragmatic and his skill to articulate concepts with practical examples is commendable. His passion to his work is stupendous and is evident in the way he communicates, lives up to the expectations of his trainees and nurtures talent. I strongly recommend Sriram for

PMP

training and I know there are many more which he delivers.

@ Sriram – Thanks for coaching me in getting my PMP. Truly appreciate it.