[three_fourth]
Based on PMBOK guide – 6th Edition
[one_half]
Crack PMP Exam in your 1st attempt
Instructor Support until Clearing PMP certification
40 – 50 Instructor Led Practice Classes for 45 minutes EVERYDAY
PMP Interview Preparation Workshop Complimentary
(How to Handle Project Management Questions)
Bi-weekly Progress Tracking for gauranteed Success
Most Updated Questions to Practice
Exam Application Assistance
[/one_half]
[one_half]



[/one_half]
Project Management Professional (PMP) is an internationally recognized professional designation offered by the Project Management Institute (PMI).
Grow In your Career with PMP Certification –
PMP certification is the one of the most globally recognized certifications and highly in demand skill for project management professionals  to have. Certified Project Managers contribute to higher success rate in projects and hence PMP is the one of the highest-paying certifications. This certification greatly expands your skills, market value and potential job opportunities. PMI Salary Survey Reveals That Project Management Professionals with the PMP Certification Earn 23% More.
Click here
to read more about it.
If your goal is to get PMP certified in your 1st attempt, then you are at the right place.
CLICK HERE
 to view reviews by PMP Certified professionals whom we trained.
UBreakthrough offeres blended model of PMP preparation. ( 4 weekend classroom sessions) + 60 PLUS Instructor led online classroom sessions of 1 hour daily (mornings & evenings) designed for working professionals.
Bi-weekly Internal Reviews to assess exam readiness and high focus on opportunity areas
10+ Mock tests with 200 questions each.
Daily Group Preparation sessions on PMP questions. (100% Instructor led)
PDU – 35 hours of PDU certificate provided for appearing in examination
Case Studies to help understand project management concepts better.
Practical Approach – Understand the difference between theory and practical application of project management concepts.
Tips and easy methods to clear PMP examination. Hear from the recent PMP passouts during webinars.
Mock Examination & Study Material – Cloud based/unlimited access to content and mock examinations. Books to download.
Mentorship Program – You will have an opportunity to  interact with mentors who can help shape up your career.
Project Management skill is highly in-demand and over 2 million jobs across the world require certified PMP resources. Clients demand for professionals who are certified as it validates your knowledge and experience in the area of Project Management. Instantly Boost Your career. Be PMP Certified Professional . Be ahead of competition and pledge for your continuous self-development and learning.
Make yourself More marketable
Make Your Resume More impactful.
Be a part of the Project Management Forums
Call us now @ 9739336688 / 9880900872

[su_tab title="Reviews" disabled="no" anchor="" url="" target="blank" class=""]
Associate Director – Program Execution Services at EY
April 11, 2019, Sriram worked with Preetham C in the same group
Sriram's PMP training is 'Top Notch' I was lucky to get Introduced to Sriram when my mind was in doldrums on how do I crack PMP. His approach about how to comprehend concepts explained in PMBOK and interpret in PMP exam ….I bet he is one among the best in business. He can coach someone who is new to Project Management at the same time he can coach someone who had lived Project Management for 15-20 years, such is his versatility. He believes in being pragmatic and his skill to articulate concepts with practical examples is commendable. His passion to his work is stupendous and is evident in the way he communicates, lives up to the expectations of his trainees and nurtures talent. I strongly recommend Sriram for PMP training and I know there are many more which he delivers.

@ Sriram – Thanks for coaching me in getting my PMP. Truly appreciate it.
---
Project Manager at EY India
April 4, 2019, Sriram worked with Suraj in the same group
I had attended a PMP training session before but had not completed my certifications owing to other commitments. I heard about Ubreakthrough Solutions from a friend and spoke to Sriram regarding taking up the PMP training. I was really impressed with the approach followed by him as he not only provides training for those 4 days but also provides you support and guidance until you take up the exam. Attending his training sessions and the online practice classes he conducts regularly ensured that i was very clear in my understanding of the concepts. Working through the mock tests that he suggested helped me with time management and ability to analyze questions. All of this gave me the confidence to take up the certification exam and clear it in my first attempt. It was a pleasure to be associated with Sriram and i would recommend that anyone planning to take up this certification to blindly go with ubreakthrough solutions and leverage the support from Sriram.

Cheers Sriram.
[su_tab][su_tab title="Register" disabled="no" anchor="" url="" target="blank" class=""]
Participate in Our upcoming Project Management Interview Drives / Events and enhance your knowledge.
[su_slider source="media: 759, 760″ limit="20″ link="none" target="self" width="600″ height="300″ responsive="yes" title="no" centered="yes" arrows="yes" pages="yes" mousewheel="no" autoplay="5000″ speed="600″ class=""]
[/three_fourth]
[one_fourth]
Sriram Narayanaswamy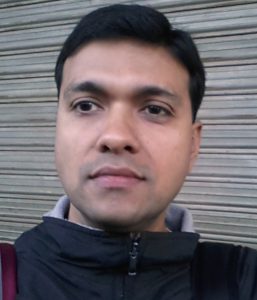 Leadership Coach / Career Growth Expert/ Project Management Consultant
Testimonials
[slide-anything id="801″]
[/one_fourth]